STAFF
We are proud to have a caring, educated staff who are excited about sharing their knowledge and the Spanish language with your children! All staff have completed NC Division of Childcare Background Checks & Fingerprinting & CPR/First Aid certification within 3 months of hire.
Ayodele Mellor | Program Director
Ayodele Mellor has been teaching Spanish in the Wilmington area for 17 years. She attended Universidad Tec de Monterrey, Campus Cuernavaca in Morelia, Mexico and in 1999 was accepted into the NC Teaching fellows elite teacher prep program at the University of North Carolina in Greensboro. There, she earned a Bachelors Degree in Spanish along with her K-12 teaching license. In 2008 she earned a NC Early Childhood Credential to work with preschool-aged children.
She served as department chair of Spanish 1 and also taught Spanish 2 at Laney High School from 2003 – 2006. After the birth of her son,
she began working exclusively with preschool aged children. She founded the popular Best Amigos Preschool Spanish Program, which has educated over 400 children since 2007. She is passionate about language immersion programs & enjoys immersion curriculum development and creating unique learning experiences.
She resides in Wilmington with her husband and five children, ages 5 – 14, and in her rare free time enjoys couponing, reading about historic America and traveling.
Cristina Bonilla | Assistant Director of Programs
Cristina Bonilla is originally from Bogota, Colombia. She graduated from the University of North Carolina at Wilmington in 2019 with a Bachelors Degree in Spanish and Minor in Journalism.
Cristina has worked with children babysitting since she was fourteen. She worked with Wilmington Bilingual Preschool as a teacher support person during our 2019-2020 school year. She has also worked as a Teacher Assistant at a local childcare center and in New Hanover County Schools. Her love for children has grown from there. She loves seeing children learn new things and the excitement that it brings.
When she is not working, she likes to spend time with her boyfriend, family, and her Australian Shepherd. Also enjoys traveling, learning about new cultures, spending time outdoors, and watching Disney movies.
Patricia Aguilera Wooddell | Lead Teacher Pre-Kindergarten 2 & Kindergarten
Patty Wooddell is originally from Santiago, Chile. She studied accounting and has worked with New Hanover Parenting for Children caring for children at Voces Latinas. She has also taught Spanish for preschool-aged children with our Best Amigos Preschool Spanish program since 2017. She has a son who is in the 4th grade at Gregory International Immersion School and a daughter, Isabella, who attended our Wilmington Bilingual Preschool Pre-K program. We are happy to have her as a part of our team!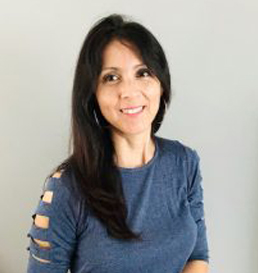 Mery Laffita | Assistant Pre-K 2 & Summer Camp Lead Teacher
Mery Laffita is from La Habana, Cuba. She graduated from the Universita of Quimica in 2004, studying industrial pharmacy. She worked in the Tropical Medical Investigation Institute (IPK) and arrived to Miami, Florida in 2015 where she lived and worked as a medical assistant and took early childhood courses. She has a two year old son and is passionate about spending time with him and working with children. In her free time she enjoys sports and reading a good book.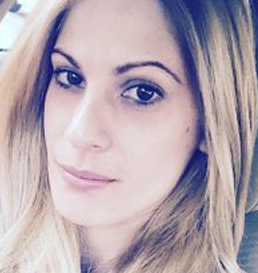 Azucena Bardales | PK 2 Summer Assistant & Afternoon Teacher
Azucena Bardales was born in Cajamarca, Peru. She studied early childhood education at La Universidad Católica Los Angeles de Chimbote. In Peru she worked for more than 6 years with 4 and 5 year old preschool students planning and developing activities to help them better express themselves and to learn in a free and creative manner. After moving to the United States and spending 3 years in Stamford Connecticut, she currently lives in Leland with her husband and two beautiful daughters, ages 12 and 17. She is very grateful and happy for the opportunity to work and teach her own language to our English-speaking students.
América Menendez | Lead Teacher Pre-K 1
América Menendez is originally from Lima, Peru. She studied educación inicial (early childhood education) at Universidad Garcilazo de la Vega in Lima, Peru and later worked as a kindergarten assistant. She moved to New York City in 2005 and worked as an esthetician for 12 years. After the birth of her daughter, she and her husband wanted to move to a quiet place to raise a family and settled in Wilmington. For the last five years she has dedicated her time to teaching and raising her daughter. Now that her daughter is in school, America is excited about the opportunity to share her language and knowledge with other preschool age children. She believes that children learn best through play and she is excited about working with our Wilmington Bilingual Preschool Pre-K 1 students!
Suzy Laffita | Lead Teacher Young Pre-K
Suzy Laffita is originally from La Habana, Cuba. She graduated from the University of La Habana in 2002 and studied Accounting and Business. She moved to the US two years ago and first lived in Miami, Florida where she took care of infants from 6 months to 24 months old. She has been married for 20 years and has a 17 year old daughter who attends school in Hampstead, NC. In her free time she enjoys reading and spending time with her family. She believes that children are a treasure and enjoys sharing the Spanish language with them.
Wendy Chaves | Young Pre-K Assistant
Wendy Chavez is originally from San Isidro del General, Costa Rica. Wendy lives in Wilmington with her husband of 9 years with their 5 year old son Elias. While in Costa Rica Wendy worked as a nanny. She has also volunteered at the nursery at Port City Community Church for the past 4 years and babysat the children of two different families for two and a half years. She has been a substitute at our school since the 2019-2020 school year. Wendy enjoys cooking, exercising, reading, going to the beach, and working with kids. She is CPR/First Aid certified and has her completed NC Childcare Background Check/Fingerprinting.
Edelmira (Miry) Rojo | Toddler Lead Teacher
Miry Rojo is originally from Ocotlan, Jalisco, Mexico. She graduated with a degree in business administration and moved here in 2015 when her husband was transferred from his job. She began working as a babysitter and later as a preschool assistant in Hampstead. She loves to work with children, especially toddlers and she is so excited to teach her first language to our younger preschool students.
She enjoys being a mommy, playing with and cooking for her three children. Her pleasant voice and friendly personality has made her well-loved by our 1 & 2 year old students since 2017!
Edlin Bernal | Toddler Summer Lead Teacher
Edlin Bernal is originally from Querétaro, Mexico. She worked with our school from 2018-2020 as our Young Pre-K Lead teacher. In 2020-2021 she worked as an assistant teacher for grades K-2 at Wilmington Adventist School. Edlín loves teaching Spanish and enjoys watching the students grow and develop. Maestra Edlín is friendly and outgoing and never meets a stranger. She is a natural leader and enjoys directing class. She currently resides in Leland, NC with her husband and two children ages 13 and 14.
Ermilia Medina | Toddler Assistant
Ermilia Medina Stoops grew up in a bi'cultural, border community in San Diego, CA but her family has roots in Zacatecas, Mexico. She received a Bachelor's Degree in Kinesiology and did her graduate studies in Public Health, focusing on nutrition and disease prevention in Latino Communities. She also worked as a camp counselor abroad in Germany and Italy. This year she has a 4 year old and a 2 year old who attend our school and in her free time loves teaching cooking classes and fitness classes. She considers herself a nature loving, eco-friendly mamá, aspiring herbalist and novice fiber artist. Her patient, friendly nature makes her a great fit for our toddlers. Prior to the birth of her daughter she worked with us during our initial year and we are happy to have her back as a part of our team!
Nathalia Gil | Staff Support and Floating Teacher
Nathalia Gil is originally from Venezuela. She began her teaching career by tutoring her peers in Spanish and found that she thoroughly enjoys teaching. This led to her working as a caregiver and elementary school assistant teacher where she worked with children in grades K-5. She is very patient, organized and creative and loves drawing inspiration to create new stories, activities and games for children to expand their knowledge in a different language. In her free time she enjoys reading mystery novels at the beach and dancing. Fun fact- in high school was a cheerleader and even today she retains her energetic, committed personality and always has a positive attitude and smile on her face.
Paulina Quinn- Errazuiriz | School Age Summer Campers
Paulina Quinn-Errazuiriz is originally from Santiago, Chile. She studied early childhood education at Instituto Cultural de las Condes in Chile and has been teaching since 1982. She taught at various preschools in her home country then spent 9 years as a head teacher at Anglo American International School in Chile.
When she moved to the United States she worked as a teacher in New Hampshire and also as a nanny.
Paulina's energetic, charismatic, creative and responsible personality makes her an ideal summer camp leader. She thinks outside of the box and comes highly recommended by her colleagues and administrators from previous schools.
She is also the mother of 4 boys, all grown, some who now have their own children.
We are excited about our adventures with Maestra Paula this summer!
Yesenia Chavez | Office Assistant and Staff Support
Yesenia Chavez is originally from Rocky Point, NC. She graduated from Heidi Trask high school in 2019. She speaks 3 languages- English, Mixteco and Spanish, which she learned from her parents who are originally from Oaxaca Mexico. She has a 1 year old son and enjoys working with children. She has worked with our school since August 2020 and is loved for her pleasant, gentle, and hardworking demeanor.
Karla Burgos | School Substitute
Karla Burgos is originally from Piura, Peru where she studied nursing. She moved to Wilmington in 2008 and studied English at Cape Fear Community College.
She began subbing for Wilmington Bilingual Preschool in January of 2021. She is very happy for the opportunity to teach our students about her culture and language and believes that children are very intelligent and learn languages quickly. She currently resides in Leland, NC with her husband and two children, ages 8 and 10.
Charles Mellor | Van Driver and Maintenance
Charles Mellor is the father of 5 awesome kids and co-owner of Wilmington Bilingual Preschool. He is looking forward to driving the summer camp van this year and helping supervise our campers, including his two daughters Zoe (12) and Mollie (8) who are also very excited about participating in this year's camp activities!
Ready to Give Your Child a Bilingual Beginning?
Request a Registration Packet Today!