STAFF
We are proud to have a caring, educated staff who are excited about sharing their knowledge and the Spanish language with your children! All staff have completed NC Division of Childcare Background Checks & Fingerprinting & CPR/First Aid certification within 3 months of hire.
Ayodele Mellor | Program Director & Founder
Ayodele Mellor has been teaching Spanish in the Wilmington area since 2003. She attended Universidad Tec de Monterrey, Campus Cuernavaca in Morelia, Mexico and in 1999 was accepted into the NC Teaching fellows elite teacher prep program at the University of North Carolina in Greensboro. There, she earned a Bachelors Degree in Spanish along with her K-12 teaching license. In 2008 she earned a NC Early Childhood Credential to work with preschool-aged children and in 2023 earned her level 2 Administrator's Credential from NC Division of Child Development.
She served as department chair of Spanish 1 and also taught Spanish 2 at Laney High School from 2003 – 2006. After the birth of her son, she began working exclusively with preschool aged children. She founded the popular Best Amigos Preschool Spanish Program, which educated over 400 children since 2007. She is passionate about language immersion programs & enjoys immersion curriculum development and creating unique learning experiences.
She resides in Wilmington with her husband and five children, ages 7-17, and in her rare free time enjoys riding her Elliptigo bike, reading about historic America and traveling.
Onsite Director of Programs
Directora Cristina is originally from Bogota, Colombia. She graduated from the University of North Carolina at Wilmington in 2019 with a Bachelors Degree in Spanish and Minor in Journalism.
Cristina has worked with children babysitting since she was fourteen. She worked with Wilmington Bilingual Preschool as a teacher support person during our 2019-2020 school year. She has also worked as a Teacher Assistant at a local childcare center and in New Hanover County Schools. Her love for children has grown from there. She loves seeing children learn new things and the excitement that it brings.
When she is not working, she likes to spend time with her boyfriend, family, and her Australian Shepherd. Also enjoys traveling, learning about new cultures, spending time outdoors, and watching Disney movies.
Lead Teacher Pre-K 2 Class & Afternoon School Teacher
Maestra Mery is from La Habana, Cuba. She graduated from the Universita of Quimica in 2004, studying industrial pharmacy. She worked in the Tropical Medical Investigation Institute (IPK) and arrived to Miami, Florida in 2015 where she lived and worked as a medical assistant and took early childhood courses. Mery has been a dedicated teacher with our program since 2019 and also has a son who graduated from our school. She is passionate about spending time with him and working with children. In her free time she enjoys sports and reading a good book.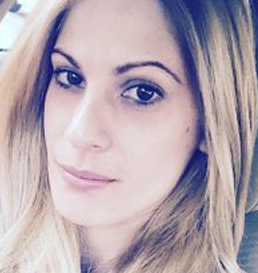 Assistant Pre-K 2 Class
Viviana R. is originally from Bogota, the capital of Colombia where she was an industrial engineer and studied at the University of Santander UDES in Colombia. Locally she has taught evening classes at Brunswick Community College and enjoys helping others learn new skills. She has dedicated herself as a mother to her 3 year old son and takes much pride in teaching him. She is excited to work with our students this year!
Lead Teacher Pre-K 1
Maestra America is originally from Lima, Peru. She studied educación inicial (early childhood education) at Universidad Garcilazo de la Vega in Lima, Peru and later worked as a kindergarten assistant. She moved to New York City in 2005 and worked as an esthetician for 12 years. After the birth of her daughter, she and her husband wanted to move to a quiet place to raise a family and settled in Wilmington to focus on teaching and raising her daughter. When her daughter began school in Fall 2020, she very eagerly began working with WBPS. America brings much creativity and excitement to her classes and she believes that children learn best through play.
Assistant Pre-K 1
Maestra Sandra is originally from El Salvador. She has four children and one grandchild. Her upbeat, spirited personality make her fun to be around and she is excited to help with our Pre-K 1 class this year!
Lead Teacher Young Pre-K
Maestra Suzy is originally from La Habana, Cuba. She graduated from the University of La Habana in 2002 and studied Accounting and Business. She moved to the US and first lived in Miami, Florida where she took care of infants from 6 months to 24 months old. She has been married for over 20 years and has a daughter who attends UNC-Wilmington. In her free time she enjoys reading and spending time with her family. She believes that children are a treasure and enjoys sharing the Spanish language with them. Suzy has been a part of our team since 2019 and is a very loved teacher here!
Young Pre-K Assistant
Maestra Wendy is originally from San Isidro del General, Costa Rica. Wendy lives in Wilmington with her husband and son, who also attended our school and now attends Gregory International School in downtown Wilmington. While in Costa Rica Wendy worked as a nanny, a babysitter and here locally at her church nursery for four years. She has been a substitute at our school since 2019. Wendy enjoys cooking, exercising, reading, going to the beach, and working with kids. She is CPR/First Aid certified and has her completed NC Childcare Background Check/Fingerprinting. She is loved for her hardworking, reliable and caring personality and we love having her as a part of our school!
Toddler Lead Teacher
Maestra Miry is originally from Ocotlan, Jalisco, Mexico. She graduated with a degree in business administration and moved here in 2015 when her husband was transferred from his job. She began working as a babysitter and later as a preschool assistant in Hampstead. She loves to work with children, especially with toddlers and she is so excited to teach her first language to our younger preschool students. Above all Miry enjoys being a mommy, playing with and cooking for her three children. Her pleasant voice and friendly personality has made her well-loved by our 1 & 2 year old students since 2017!
Toddler Assistant
Maestra Silvania is originally from the Dominican Republic where she studied at Colegio Ana Delia Jorge and was owner of a clothing store. She now lives in Wilmington and is married and loves being a mom to her twin boys, who are nine years old. In her free time she enjoys cooking and cleaning. She is very patient, energetic and enthused to be teaching Spanish and helping take care of and love on our toddler students!
Floating Teacher
Maestra Janela is originally from Ecuador where she worked for 10 years with a church organization that helped children and adults. When she moved to the USA she began working at a preschool as an assistant teacher and teaching Spanish in the western part of the state. She loves teaching because it fills her heart to watch children develop their skills and intellect. She is very patient and enjoys creating fun ways to interact with students. In her free time she enjoys spending time with her husband, her dog and is a fan of nature, plants, exploring and climbing. We are excited to have her on our team!
Summer Volunteer
Mollie M. is a rising 4th grader and has attended WBPS since she was 4 years old. She is an honor student loves helping at her school and also helping at WBPS. In her free time she enjoys doing art, jumping on her trampoline and helping take care of her little brother (and sometimes her big brothers!)
Summer Volunteer
Zoe M. is a rising 8th grader and sister to 4 siblings. She has been learning Spanish since she was 4 years old. She plays the viola in the orchestra and is an honor student at Trask Middle school. In her free time she enjoys playing with her two cats, Midnight and Luna. She wants to be a pediatric dentist when she grows up. She's excited to be helping in the toddler room this summer!
Summer Volunteer
Hello my name is Charlie Nicklas and I am 8 years old. I am a former graduate of Wilmington bilingual preschool and it is an amazing school for Spanish! I love kids, books and speaking Spanish! I'm very excited to volunteer and work with you le kids. I speak fluent Spanish and have helped with a WBPS event aka Día de los Muertos. This year, I went to Costa Rica Pura Vida CPI school. CPI is also a great school. In my free time, I like to read, listen to music, cook, bake and go roller skating. Thank you for letting me volunteer!
Charles Mellor | Van Driver and Maintenance
Charles Mellor (a.k.a. Señor Charles) is the father of 5 awesome kids and co-owner of Wilmington Bilingual Preschool. He drives the summer camp van for our school age students and helps keep our students safe on their field trips. You may see him from time to time delivering water or on the weekends doing maintenance at our school.
Ready to Give Your Child a Bilingual Beginning?
Request a Registration Packet Today!